Check the tips for listing items for sale on ebay, Recently I was asked to critique an eBay listing for a relatively new eBay seller who has 185 feedbacks. I thought I might share my critique as it covers 5 very basic areas which are very regularly missed by SO many eBay sellers. I have attached a screenshot of his listing below.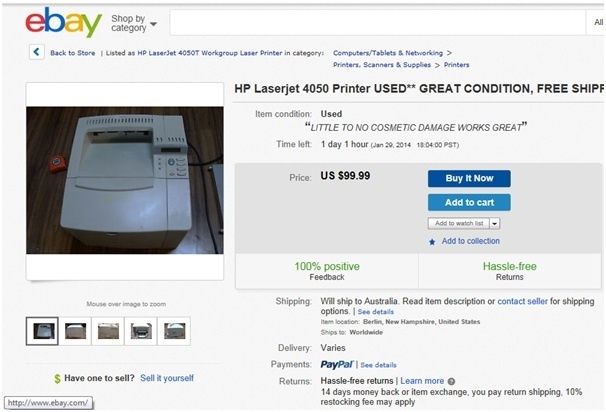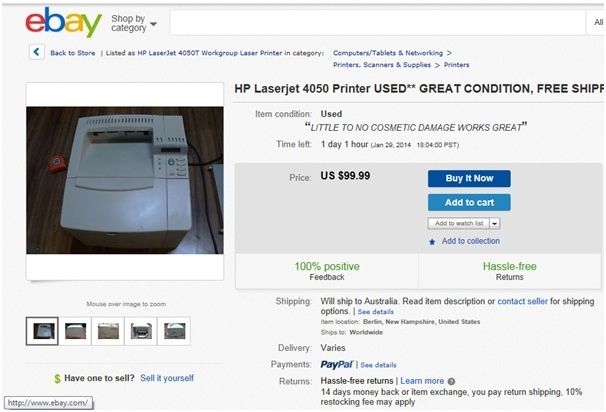 Tips for listing items for sale on ebay
Hi Charles, just had a quick look at your eBay shop and the 1st item was "HP Laserjet 4050 Printer USED** GREAT CONDITION, FREE SHIPPING!!"
Here are a few suggestions you can use for this listing and perhaps some of your other listings.
Title.  You are only using 24 of the 80 characters eBay allow us i.e (HP Laserjet 4050 Printer) .  The other words and characters like "**" "GREAT CONDITION" etc are not normally searched for so you are missing out on a lot of traffic.  Instead of these keywords, swap them for relevant keywords like "Laser".  Every "relevant" keyword you add to your title gives you more traffic.  To find more relevant keywords, use a tool like Google Keyword Planner, it's free.
Photo.  Removing the background on your photos so the background appears pure white will on average return the most sales / conversions for most items.  Some people will argue this is overkill for used items,soit is up to the individual.  If you do not know how to do this, I have a free online video which shows you how to do it,including using free software. Also, eBay allows 12 photos for free, on average; using 12 photos whenever possible will increase your sales. Make sure your photos are a minimum of 1600 x 1600.
Returns.  Over the years we have gradually increased our return policies and now offer 60 day return policies for un-used items and 12 months back to base warranty for used items.Despite this we have only noticed a very small increase in returns in relation to a very large gain in sales. However we only sell new items now.  By selecting the 60 day return policy in your listing, eBay's search engine "Cassini" will bump your listing higher in the search results and… eBay buyers will get the warm and fuzzies about your listing.  When buyers see short warranties, short or no return policies, re-stocking fees etc, it puts them off.  To get the most money for any item and sell the maximum amount of an item if you have quantity, you must "create trust".   Terms and conditions make or break eBay sellers by either giving the potential buyer a feeling of trust or a feeling of……
Branding. If you are looking at eBay as a long term proposition, you should consider getting a listing template created with your own brand. Branding is simply how you "feel" about a location.  Whether it is a physical location or website or an eBay listing.  An example is … where do you buy your groceries?  Why do you shop there instead of a competitor?  I bet it is due to how you "feel" about the shop. Same goes with where you buy your petrol / gas?  Why do you go there and not to another service /gas station.The same goes for websites and eBay listings.  Have a look at a few of the listings of the top eBay sellers and create a similar listing template on your eBay store and or website.  In the template you can have your terms etc so you do not need to keep writing them for every listing.
Testimonials the easy way.
To realise how well testimonials work, just watch any infomercial channel on TV and you will notice they show the item then switch back and forth between people who are endorsing the product.  An infomercial is simply a sales letter which is being "read out".
Today most of us look at testimonials on websites and take them with a pinch of salt as many people have abused testimonials and loaded their sites with fake testimonials.
Bottom line is Testimonials work extremely well IF people "know" they are real.
The good news is with eBay, you can use "real" testimonials.  Here is how.  Simply scroll through your feedback and look for a feedback which in some way mentions a product, not just "Great ebayer".  i.e "This exercise gym is amazing!"  Now do a screenshot of the feedback and paste the image into your listing template.  Now customers can see the feedback is real as it even has the eBay transaction ID in it.  Try to get 3 feedbacks per product. If you are selling used products, use a feedback which talks about you i.e. "Fast shipment and the item was exactly as described"
This is just the first 5 points of the critque.  If you would like one of your listings critiqued to increase your eBay sales , check out https://neilwaterhouse.com/ebay-listing-critique/
To Your Success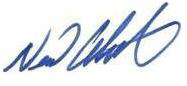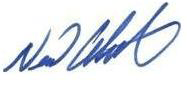 Neil Waterhouse
This might also be interesting for you:
New shipping carrier for Australia
How to fast track your eBay Business
eBay Listing Sales Tips and Common Mistakes 101
We are sorry that this post was not useful for you!
Let us improve this post!
Tell us how we can improve this post?