Get the best ebay listing tips, We need to know the ebay listing tips. On July 1, 2015 eBay made it a requirement to add item specifics when an item has product identifiers.
Product Identifiers include Manufacturer Part Numbers (MPN) and Global Trade Item Numbers (GTIN). GTINs include European Article Numbers (EAN) and International Standard Book Numbers (ISBN).
As well as these product identifier fields in the item specifics section, every every other field in the item specifics that is applicable, should be also populated. These fields change depending on what you are listing. For example if you're listing a phone, the item specific fields will include fields like how much memory, model number et cetera.  However if you're listing clothing, the specifics will then ask you information about the size, colour et cetera. Note that all categories have different item specifics.
No matter what you list on eBay, always populate the relevant item specifics fields with information like brand name, model number, size, colour, capacity et cetera where relevant.
The information you add to the item specific fields helps buyers find your item and also helps with SEO (search engine optimisation) for not just eBay's Cassini search engine, but also helps Google to find your eBay listings too.
Even before eBay made part numbers and model numbers a requirement, Cassini has always put a lot of weight on the information entered into the item specifics.  Therefore since the release of Cassini it has been extremely important to add item specifics to any relevant listing, as if you don't, you stand a chance of your listing not being shown to buyers.
For example, let's say you sell T-shirts. Some of the items specifics fields available in this category are size, colour, condition (new or used) et cetera.
If a buyer comes along and searches for a T-shirt and clicks on the checkbox to select their prefered colour i.e. red, only T-shirts which have "red" in the "colour" field will show.
If a Seller did not populate the "colour" field in the item specifics, their listing will not appear to the buyer.
For this reason, taking the time to correctly populate all the relevant fields in the item specifics is crucial.
Below is a screenshot of a live eBay listing where the "item specifics" have been populated correctly.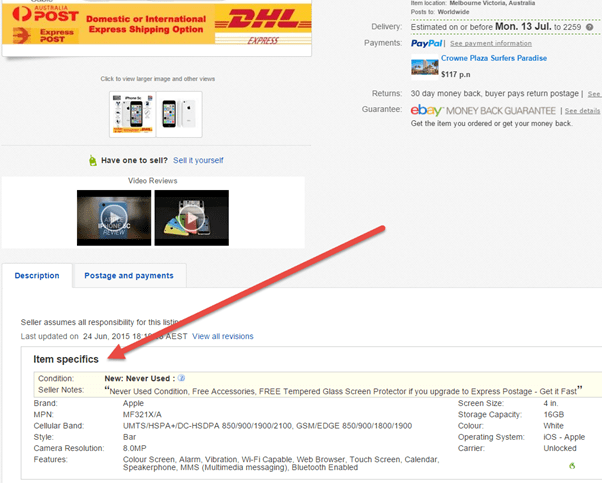 Note: For some popular items like Apple iPhones, ebay will automatically populate the item specifics for you.
Below is a photograph of a Toshiba laptop identification sticker located on the bottom of a Toshiba laptop. This sticker shows the model number, part number and serial number.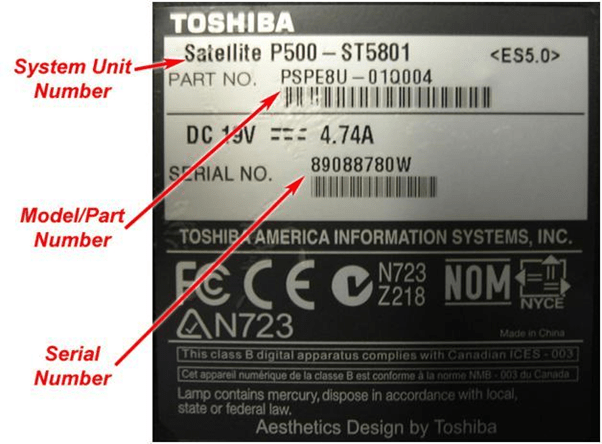 Below is a screenshot of where you enter the item specifics when you are listing an item. For the screenshot below, I started listing a T-shirt.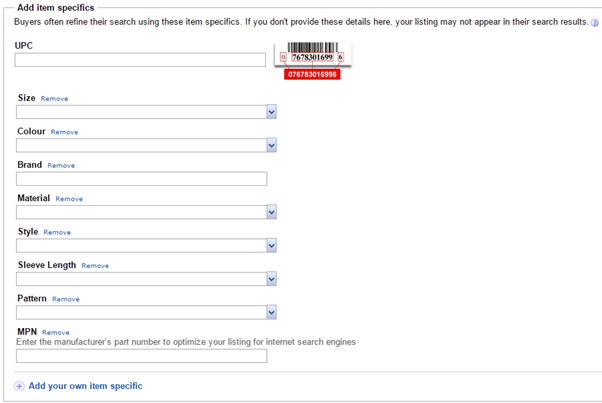 You can also add more fields to the item specifics by clicking on the "Add your own item specific" button which you can see at the bottom of the screenshot above.
The advantage of adding more fields is it gives you the opportunity to add more relevant keywords which help both Cassinia and Google find and index your listing.
To your success


Neil Waterhouse
We are sorry that this post was not useful for you!
Let us improve this post!
Tell us how we can improve this post?