Neil Waterhouse,  Multi Million Dollar eBay Seller, warns….
Read this page NOW to discover
the #1 mistake
people make selling merchandise on
e
B
a
y
– and how you can avoid it and make REAL money selling stuff on
e
B
a
y
!
The secret to making a six or even seven-figure annual income on eBay is actually easy … yet not 1 eBay seller out of 1,000 has figured it out yet!
Dear Friend:
Hello. My name is Neil Waterhouse. And right on this web page, right here and now, I'm going to reveal the one mistake eBay sellers make that dooms them to earning peanuts.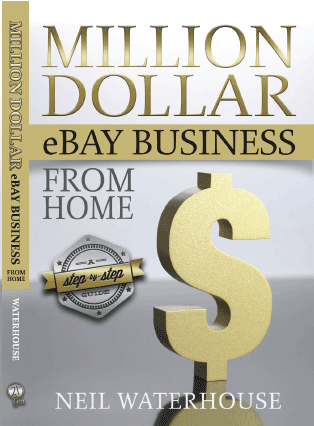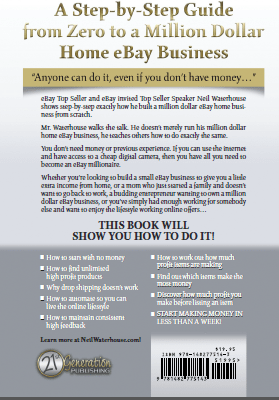 And I'll also tell you what you should be doing instead to make a LOT of money selling merchandise on eBay.
You'll learn this vital eBay success secret immediately, just by reading this web page – without buying anything from me.
I'll explain why I'm sharing this top-secret eBay information for free online … instead of charging you for it … in a minute.
A word about me before I get to my eBay Profit Secret….
Short and sweet: Since 2002, I have sold millions of dollars of items on eBay from my home in Sydney, Australia.
In 2009, eBay recognized me as one of their top eBay million dollar sellers. Today I run multiple eBay businesses.
That's all I think you need to know about me to decide whether to listen to my eBay advice. But if not, you can read a more detailed bio at left.
Anyway, what 99.99% of folks who want to make money on eBay do is this:
They collect various items to sell on eBay, usually from their garage or attic. They may buy additional merchandise to sell online at flea markets and swap meets. Then they take a photo of each item, write a description, and post listing on eBay.
Most of what they sell is basically junk that would otherwise get thrown away. Of course, every once in a while, they offer a real treasure. But not that often.
If you run your business that way, you will never make much money with eBay. That's because selling "one-offs" is slow and labor intensive: you have to create a new ad and photo for every new item you sell – and constantly scour your neighborhood for new items to list.
It's not a "repeatable" business because you are always reinventing the wheel. It's not reliable because you never know what stuff you'll find to sell.
Learn to do eBay the "right way"
So how do you make real money on eBay – day after day, week after week, month after month – like I do?
My method is to find one quality item … or a handful … that I know will sell briskly and in volume on eBay – which I do by testing.
Once testing shows me that an item will sell, I find a source where I can buy as many units as I need at low wholesale prices – often from China.
I take one photo … write and post one ad on eBay … then sit back and watch money pour into my PayPal account – on average more than $20,000 a week – as I sell the same product by the hundreds!
Well, that's what I do in a nutshell: find a select few items that sell great on eBay, then keep selling those few items over and over again at a good profit margin.
But as for how I run my eBay business the way I've just outlined: for the detailed, how-to, step-by-step instructions, you'll find them in my new e-book, Million Dollar eBay Business from Home – which, for a limited time only, you can order on a 90-day risk-free trial basis when you click below now:
At last, a step-by-step, do-it-yourself,guide to making money on eBay….
Today eBay is a huge e-commerce platform that's practically tailor-made for work-at-home entrepreneurs like you and me; total annual eBay sales are $14 billion.
Now my book Million Dollar eBay Business from Home shows you step-by-step how to advertise products on eBay and sell them at a handsome profit.
Including:
The 3 factors that determine how much money you'll make on eBay. Page 27.
How to find anything you want on eBay. Page 38.
3 ways to handle questions from your eBay customers. Page 96.
How to increase your eBay profits by opening an eBay Store. Page 113.
The worst eBay business – and how to make sure you stay out of it. Page 27.
A simple formula for going from zero to a million dollars a year on eBay. Page 28.
Tip and techniques for lighting and editing your eBay product photos. Page 60. Plus: how to digitally remove backgrounds from photos. Page 62.
How to source quality merchandise at low prices from China. Page 46.
45 items you may have lying around that you could profitably sell on eBay. Page 29.
10 products people regularly throw away that others will buy from you on eBay. Page 31.
How to sell other people's items on eBay for a 5% to 50% commission on every sale. Page 32.
How to find wholesale lots you can buy online and resell to others at a profit through eBay. Page 33.
The absolute most economical way to launch an eBay business ever devised. Page 35.
5 places to find merchandise you can turn around and sell on eBay. Page 36.
Where the real big money is in eBay marketing. Hint: it's probably not what you think. Page 36.
How to earn an average profit margin of 411% on new items you sell on eBay. Page 36.
17 situations in which you can get eBay to remove negative feedback of you as a seller. Page 107.
Where you can find the most powerful button on eBay – and how you can use it to skyrocket your eBay profits. Page 37.
Why limit your sales to the USA? Here are 22 countries that have their own eBay sites. Page 37.
The secret to maximizing your profits on every item you sell on eBay. Page 40.
The 7-step "arbitrage formula" for choosing new products to sell on eBay. Page 41.
9 questions to ask before you choose a market niche for eBay selling. Page 41.
What product price points sell fastest on eBay – and which are too expensive for eBay shoppers? Page 43.
How to take clear, crisp product photos for selling items on eBay—and why it's so important to do so. Page 56.
A simple process for researching which products are selling best on eBay. Page 44.
Why you should NOT sell drop-shipped merchandise on eBay. Page 45.
10 tips for maintaining high feedback ratings as an eBay seller. Page 102.
How to avoid being scammed when importing merchandise from China to sell on eBay. Page 47.
How many different photos of an item will eBay let you upload for free? Answer on page 63.
Using Google to determine the keywords that can bring a flood of traffic to your eBay listing. Page 76.
Avoid selling these 17 items … because they are banned from eBay. Page 50.
8 steps to making sure a product can be sold profitably on eBay. Page 52. Plus: a little-known web site that helps you
find products meeting these criteria. Page 53.
Do fancy graphics in eBay photos help or hurt sales? The answer may shock you. Page 54.
21 great tax deductions you can take when you own your own home-based eBay business. Page 64.
How to open an eBay account in your own country. Page 67.
How to enable your eBay buyers to pay for your products using PayPal. Page 69.
8 steps to becoming an eBay "PowerSeller" – and why you should. Page 70.
How to ensure that your eBay account has 100% positive feedback. Page 99.
How to list an item for sale on eBay. Page 74.
Best words to use in your eBay listing's subtitle. Page 79.
The most powerful copywriting technique for creating successful eBay product listings. Page 82.
3 ways to get perfect studio-quality product photos with a perfect white background. Page 58.
7 ways to add a sense of urgency to your eBay listings. Page 82.
4 reasons you should never allow customers to pick up products they ordered at your house. Page 83.
The best return policy to use on eBay. Tip: It's NOT "all sales are final." Page 84.
The fastest, most cost-effective way to ship goods imported from China. Page 48.
Where to store your eBay inventory. And: an easy way to prevent water damage of stored inventory. Page 148.
What works best in item descriptions – text or HTML? Page 85.
Best day of the week – and time of day — to finish eBay product auctions. Page 86.
How to set your eBay product shipping fees. Page 88.
Free software from eBay to help you save time and money managing your online business. Page 129.
Little-known eBay trick increases the market's price perception of your product. Page 133.
How to double your sales by selling your eBay products on Amazon. Page 125.
3 steps to ensuring customer satisfaction with international orders. Page 89.
8 listing upgrades that make your eBay listings stand out from the crowd. Page 90.
How to list products on eBay with your smart phone or iPad using their app. Page 92.
The easiest way to keep track of what's going on in your eBay Business – including total sales for the month, total items listed, and more. Page 93.
4 steps to getting dissatisfied customers to retract their negative feedback of you. Page 100.
9 ways to measure your business performance with the free eBay Listing Analytics tool. Page 139.
Little-known secret to having a highly profitable eBay business. Page 141.
7 ways to get your eBay items to move more quickly. Page 142.
Prevent "slapping" from damaging items you ship to your customers. Page 152.
And much, much more… including…
How to find best selling items on eBay
what items to sell on eBay for the biggest profits
eBay selling tips
Quick start to making money at home from eBay
How to start with zero money, no borrow a cent or dropship!
How to over double your eBay profits with a website
and much much more…
Act now and save $40
How much would you be willing to pay me to share my million-dollar eBay secrets with you – and show you step by step, in words and pictures, how I build a million dollar eBay business from my home from scratch? $1,000? $500? $100?
It will cost you not even that!
The cover price of Million Dollar eBay Business from Home is just $59.95, and that's what we'll sell it for later in the year.
But when you order now, my Million Dollar eBay Business from Home is yours for only $19.95 – a discount of $40 off the regular rate – less than you'd pay to take a friend to lunch at the diner!
And that's only if Million Dollar eBay Business from Home helps you make money selling your stuff on eBay.
If it doesn't, then it won't cost you a penny. Here's why….
Our 100% iron-clad guarantee of satisfaction
I totally guarantee your satisfaction with our new guide to making money quickly and easily on eBay.
If Million Dollar eBay Business from Home doesn't help you start generating sales of hundreds or even thousands of dollars a week on eBay within the next few weeks….
Or you are not 100% satisfied with Million Dollar eBay Business from Home for any other reason … or for no reason at all … just let me know within 90 days.
I'll give you a full and prompt refund. And you can keep the book with my complements.
That way, you risk nothing.
One more thing….
In my 21 years in business, I've tried and succeeded in a lot of things, and I also failed in a few.
I got into computers early. I was one of the first ISPs (Internet Service Providers) in Australia. And I started and ran one of the largest computer hardware supply houses in Sydney. From 1997 to 2002, I imported and customized Dodge Vipers from the USA into Australia. I also traded options, owned and operated vending machines, created and marketed information products online, and invested in real estate.
But by far the most enjoyable and profitable business I've ever owned is my home-based eBay business.
Buying low-priced consumer products from the low-cost sources I show you in Million Dollar eBay Business from Home … and selling them on eBay at handsome mark-ups … gives me both the income and the lifestyle I love: working at home with plenty of free time to spend with my family.
Now I can't promise you'll make a million dollars a year on eBay. But even if you did, say, one-tenth the volume … that'd still be $100,000 a year in extra income earned on eBay. Not bad, right?
And remember: you MUST be 100% satisfied with the money you make from my Million Dollar eBay Business from Home program – otherwise, I'll refund your money in full. You can't lose!
So what are you waiting for?
To order Million Dollar eBay Business from Home on a 90-day risk-free trial basis, just click here now:
Sincerely,
Neil Waterhouse
P.S. Order Million Dollar eBay Business from Home today and you get a FREE Bonus Gift – the popular Waterhouse Research eBay Cheat Sheet.
The eBay Cheat Sheet is your "quick-start guide" to getting up and running on eBay in a flash.
It condenses the most important eBay knowledge on two sides of an 8 ½ X 11-inch PDF available for instant download. Reading time: 5 minutes.
In just a few pithy words, it covers:
Registration steps to get you started on eBay in less than 5 minutes.
eBay policies and restrictions you ignore at your peril.
7 ways to easily sell your merchandise on eBay for the most amount of money possible.
An at-a-glance glossary of key eBay terms.
5 tips for purchasing merchandise to sell on eBay.
Guidelines for taking great eBay auction photos.
How to find out what any item on eBay sold for.
How to select the right category for your product listings.
Tips for maximizing profits at auction sales.
25 hot products you can sell on eBay that are making over 50% profits right now.
And more…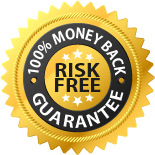 To order Million Dollar eBay Business from Home … and get your FREE eBay Cheat Sheet … just click below now: